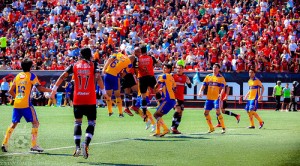 Xolos and Tigres will face off at Estadio Caliente on Friday, August 17, 2012 at 8:30 PM EST. Both teams are coming off 2-2 draws, both teams must be disappointed with their result, and both teams will be looking for the win. Xolos has won both of its home games, while Tigres is still undefeated; this should be an entertaining match pitting two of the best Liga MX teams against each other.
Xolos appeared to have the three points in the bag last week against Pachuca, but San Nery Castillo showed up at the last moment and scored the game tying goal with a beautiful long-range shot. If soccer winners were decided by who deserves it most, Xolos would have won at Estadio Hidalgo 4-0. But of course, that's not how it works, and with very little good play, Pachuca was able to get one point off a better Xolos squad. The important thing is that Xolos is playing well, and should be a tough test for Tigres at Estadio Caliente. Also, Fidel Martinez, the "Ecuadorian Neymar", received a red card against Pachuca and will be unavailable for the match against Tigres (he has played as a sub in all games, so not a big loss for Xolos).
Tigres might be undefeated, but they are coming off back-to-back draws against teams they should have defeated: Atlas and Queretaro (specially Queretaro!). Tigres and Queretaro drew 2-2 at Estadio Universitario (yea, Queretaro got a point from Tigres' home). Tigres were actually ten minutes away from losing  against Queretaro at home, but Juninho's awesome strike saved Tigres from an embarrassing defeat. For the past three games, Tigres has looked kind of flat, mostly relying on its solid defense and individual offensive talents to remain undefeated. I foresee that they will struggle mightily against Xolos.
Prediction: Xolos has recuperated from the beat down received in Leon three weeks ago, and was just two minutes away from achieving back-to-back wins. Although their play is not flashy, Xolos can defend well and score if given the chance (be that a free kick, corner kick or on the counterattack). Tigres, even if undefeated, has been quite mediocre during the last three matches; I expect them to continue playing that way at Estadio Caliente. Xolos will get the win and continue the home game winning streak.  The score will be Xolos 2 – Tigres 1.
Television:  The Xolos vs Tigres match will be shown on Univision Deportes at 8:30 PM EST this Friday, August 17th.