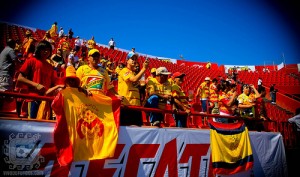 Monarcas Morelia has a good chance at earning three points when they face Puebla at Estadio Morelos on Friday, August 17, 2012 at 10:30 PM EST. Morelia is one of the six teams still left undefeated in the Liga MX; they should be able to remain in this prestigious group after the match against Puebla. Puebla on the other hand has been terrible, with just one point out of four matches, and currently in 16th place of the standings. Puebla will succumb to the Monarcas Morelia team and add another notch to their loss section.
Morelia should have defeated Chivas at Estadio Omnilife last week, but a lucky Chivas was able to find the net and tie the match 1-1 late in the game (ok, ok Chivas played alright in the second half). This made it Morelia's third draw of the season, and leaves them with six points out of four matches. Morelia so far has been unspectacular (other than Huiqui's Messi-like performance against San Luis), but they know how to pull out the results. I expect that playing at home, Monarcas' talent should be enough to overcome Puebla.
Puebla is just one of those teams that hasn't found its game yet, having lost three out of their four matches in the Liga MX. Last week against Cruz Azul, they lost a man to a red-card in the first half, and never really looked capable of winning the match. Their only point came off a tie against Santos, a Santos team that could have been winning 4-0 in the first half, but let the game slip away. Thus, Puebla hasn't really had a good game yet, and against an undefeated Morelia squad and away, I don't think they will find what they've been missing so far.
Prediction: Morelia, although having won just one game so far, is a tough opponent that will show Puebla why it is still undefeated. Puebla simply hasn't been playing well, and I don't expect them to do so against Monarcas either. I predict that Morelia will easily defeat Puebla, and earn its second win of the Liga MX.  The score will be Morelia 2 – Puebla 0.
Television:  The Morelia vs Puebla match will be shown on ESPN Deportes at 10:30 PM EST on Friday, August 17th.