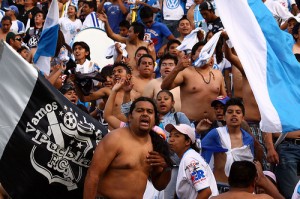 The Puebla vs Cruz Azul match at Estadio Cuauhtemoc on Sunday, August 21, 2012 at 1:00 PM EST will be a tough test for Puebla, a team that has gained just one point so far. Cruz Azul might not be a flashy team, but they can defend well, and have talented strikers (Pavone, and Bravo) that can make some damage if given the chance.
Last week against Santos, Puebla showed signs of life and was able to come back to tie the match 2-2 after being down 2-0 early on. However, the Puebla defense seems to be their weakest link, having received seven goals in only three games this season. I expect that Puebla will once again struggle at defense, leaving it up to their offense to try to score more goals than the defense concedes.
Cruz Azul's defense is solid, having received just one goal in three matches. When you add the fact that Puebla isn't really a high-scoring team, you can see that Cruz Azul is very likely to maintain another clean sheet. Cruz Azul has enough talent to get the win in this match, and anything less than a draw would be a complete shock to me.
Prediction: Puebla is a team that struggles on the defensive side, has a mediocre offense, and is facing a team that has only received one goal in three matches. Expect Cruz Azul to hold off any Puebla attacks. The Mexico City team will take advantage of Puebla's defensive mistakes and win this game without too much of a hassle. The score will be Puebla 0 – Cruz Azul 2.
Television:  The Puebla vs Cruz Azul match will be shown on Azteca America on Sunday, August 12, 2012 at 1:00 PM EST.