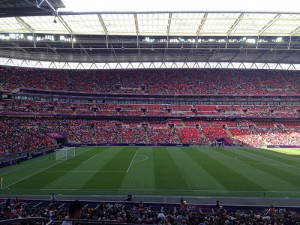 The London 2012 Olympics men's soccer final is around the corner. After a hard-fought tournament that included sixteeen U-23 squads, two are on the verge of a gold medal. Mexico will face Brazil at Wembley Stadium on Saturday August 11, 2012 at 10:00 AM EST in what will undoubtedly be the most important and nerve-racking match of this London Olympics. Brazil has a long history of soccer success by having won five World Cups, and many other titles, however, they have never taken the gold home. On the other hand, Mexico already made history by obtaining its first ever soccer medal but that does not mean they are satisfied with a silver. Saturday's game will mark a day in history for either country because either Brazil or Mexico will win their first ever gold medal in a men's Olympic soccer competition.
The 'verde-amarelha' is the favorite to win the final for various reasons. The most logical reasoning is the tremendos talent and depth found in this squad. Brazil's starting offense is made out of Leandro Damiao who leads the competition with six goals and Neymar who has scored three. However, Brazil has the luxury to sub any of these two players with Hulk and Alexandre Pato who are on the bench. This exemplifies the offensive depth of this squad who has not only scored a total of fifteen goals thus far (3 per game), but has also been undefeated, won every game, and why not, they will most likely be the forwards representing Brazil in the 2014 world cup.
Aside from their top-class forwards, Brazil also has a talented midfield led by Chelsea's Oscar, Ganso, and Lucas Moura who is Paris Saint Germain's new wonder player. And to top it off, their back-line is led by the world's best defender in Thiago Silva, along with Manchester United's Rafael on the right, and Real Madrid's Marcelo on the left; this defense has only allowed a fair five goals. With so much talent and depth, Brazil is strong in every line on the field, and although there have been moments of poor soccer, the way they played and beat South Korea in the semifinals (3-0) shows that this is a team that is improving, and uniting game-by-game.
On the other side of the field is Mexico who is playing their fourth U-23 final in just over a year. Yes Brazil has amazing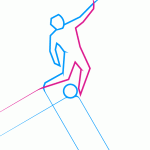 talent and fame, but this Mexican squad has what no other team in this tournament has been able to achieve; team play. Mexico only has one player in Europe (Giovani Dos Santos), but this has not prevented them to beat strong teams like Senegal and Japan. The 'tricolor' fields eleven players who are starters in their Liga MX teams, but most importantly, it fields eleven players who have played together in five tournaments. The teams lead by coach Luis Fernando Tena failed in the Copa America, but triumphed in the Panamerican Games, Pre-Olympic qualification tournament, and most recently the Toulon Tournament. This team does not know defeat, and it is used to playing important finals therefore it will be no easy task for Brazil to dominate, nonetheless, win this game.
Mexico suffered a big blow in the semifinals victory against Japan because their forward, best player, top goal scorer, and top assister, Giovani Dos Santos, left with a hamstring injury which will sideline him for the final. This is a major loss for a team who is efficient but lacks some offensive depth. However, this team has played without Dos Santos before and Marco Fabian will take the leadership role on the attack and he could very well pose a real threat against the Brazilian defense. With Fabian leading the attacking midfield, and Oribe Peralta scoring wonder goals, this offense could surprise the world and give Mexico its first gold in its soccer history, and its first gold of any sport in this London 2012. Finally, Mexico's defense has been splendid by having a clean-sheet in the group stage and receiving three goals between Senegal and Japan- but they scored seven in those two games.
Prediction: Unfortunately for Mexico, Brazil is the favorite to win the title because of its major offensive threat and all-around depth. Neymar will be a problem for Mexico's Israel Jimenez due to Neymar's overwhelming speed, while Leandro Damiao could expand his scoring streak. For Mexico, they have the better defense and the best goalie in the tournament with Jose Corona, but Dos Santos's injury is the worst player loss this team could suffer. Mexico's offense will need to give it an extra push, and they cannot play a conservative game because Brazil with undoubtedly score. Finally, let's not forget that this Brazil played Mexico's major squad back in June and Mexico only won by a close 2-0; and yes, Dos Santos was the game changer that game. The score will be an exciting 3-2 victory for Brazil.
Television: The game will be shown on Telemundo NBC Sports Network, and nbcolympics.com at 10:00 AM EST.