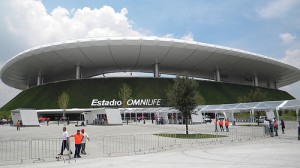 Click here for the Chivas vs Morelia, Friday, January 25, 2013 game and tv information.
The Chivas de Guadalajara vs Monarcas Morelia match at the Estadio Omnilife on Sunday, August 12, 2012 at 6:00 PM EST, could be a deciding match of the future of Chivas this tournament. The 'rebaño' has only obtained one point in three matches this season by only scoring one goal and receiving three. Morelia comes into the game with five points playing above the expectations, and will go into the Omnilife with the idea to gain at least one point. In another season, or better to say, another circumstance, this game would have been a game of the week, but looking at the quality of soccer Chivas has played of late, one can expect a low  scoring, conservative game out of this Apertura 2012 Week 4 Liga MX game.
Chivas has begun the season with only 1 out of 9 possible points, but it is good to argue that they also have had one of the toughest starting schedules in the mexican soccer league. Guadalajara lost its first match against Toluca (who currently leads the standings), lost the second against Santos (who are the reigning champs), and tied last week in a boring match against Cruz Azul. Now, they face another strong opponent in Morelia who has played in good form thus far. In order fpr Chivas to obtain its first victory in ten games, they need the offense to come to life. Only one goal shows two things: the offense lead by Rafael Marquez Lugo has not worked, most possibly because of the youth around him; secondly, it demonstrates that the set pieces are not functional. Why? To put in perpective, because there are teams like Xolos of Tijuana who may have a worse offense than Chivas, but have still managed to score three goals out of set pieces. Furthermore, this defense has played better of late, therefore it will not be a surprise if they can obtain another clean sheet.
Morelia has raised eyebrows to many already into the season because like Chivas, Morelia has played above average teams like Cruz Azul and Monterrey, and still managed to have 5 points. In fact, the poorer team Morelia was San Luis in Week 3, and although losing 3-1, they managed to come back in the last 8 minutes and tie the game with a 3-3 final score. The attitude showed against San Luis demonstrates that this team is well coached under Ruben Omar Romano, and most importantly, it shows that it is playing in top form. Top form will be the difference in the game against Chivas; if they play like they did in the first 80 minutes against San Luis, Jefferson Montero and Miguel Sabah will not be able to give Morelia another three points.
Prediction: Morelia is the best team on paper and on the standings. Chivas is still on the worst streak of its recent history, and sorry to the 'chiverio' but this season will once again mark a failure (do not worry though, the better times will be here soon). However, I am a staunch believer that streaks end, and for that reasons, plus the fact that Morelia played 80 bad minutes against San Luis, I believe Chivas will obtain the victory in front of its crowd. It will not be pretty, nor exciting. The score will be Chivas 1-0 Morelia.
Television: The Chivas vs Morelia match will be shown on Telemundo, August 12, 2012 at 6:00 PM EST.
Click here for the Chivas vs Morelia, Friday, January 25, 2013 game and tv information.