The San Luis vs Monterrey match at Estadio Alfonso Lastras on Saturday, August 11, 2012 at 10:00 PM EST won't be as one-sided as the standings would lead you to believe. San Luis might only have one point, but they've actually played pretty decently in all three of their matches. Monterrey, the defending sub-campeon, might appear to be the favorite in this match, but their offense has been sub-standard; expect a close match between both of these teams.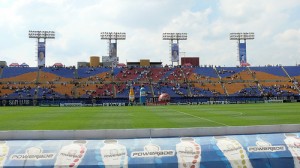 Last week, San Luis appeared to have Morelia down for the count, up 3-1 with just a couple of minutes left in the second-half. However, a Messi-like performance by Huiqui (and bad defending from San Luis), allowed Morelia to tie up the game in the final minutes. This left San Luis with just one point in three matches; a misleading sign, this San Luis team is not nearly as bad as the standings indicate. San Luis can play pretty decent soccer, they simply seem to lack concentration at key moments during their games. Expect San Luis to come revitalized from their good performance in Morelia, with high expectations of achieving their first win.
Monterrey has been disappointing so far, having gained four points, but most importantly, only scoring two goals along the way. Their offense has been flat, as though they were still playing the preseason. Against a very bad Jaguares team, Monterrey was only able to score two goals, barely defeating the worst team (ok, second worst, Queretaro beats them out) of the Liga MX. San Luis is capable of playing any team tough, and I expect Monterrey will struggle to find the net.
Prediction: Even with just one point to their name, San Luis is still a dangerous team that can handle tough opponents. Add to this the fact that Monterrey has not been playing great so far, and you have a recipe for the Reales' (that's San Luis, for all of you who didn't get the memo) first three points. San Luis will finally be able to pull off a good result, and bag their first three points of the season. The score will be San Luis 1 – Monterrey 0.
Television:  The San Luis vs Monterrey match will be shown on Univision Deportes on Saturday, August 11, 2012 at 10:00 PM EST.