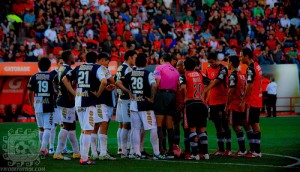 The Pachuca vs Xoloitzcuintles of Club Tijuana game at Estadio Hidalgo, August 11, 2012 at 8:00 PM EST will be one of the games of the week. These two teams have a lot to offer this season, escpecially Pachuca who is yet to play at its highest level with its new top player signings. We will see two teams who are big playoff hopefuls, and who have the quality and talent to make this game into one of the best in Week 4 of the Apertura 2012 of the Liga MX.
Pachuca has started the season with 4 out of 9 possible points by tying Atlante (0-0), losing against Atlas (3-0) and beating a relegation bound Queretaro (1-0). The team lead by coach Hugo Sanchez has played well under its expectations but it has still managed to obtain a decent 4 points due to its tremendous talent and depth. In order for Pachuca to gain its first victory of the season at home, it will need to get past a strong Xolos defense who allowed four goals against Leon but allowed on the other two. Moreover, Pachuca's greatest strenght on paper is its offense which is led by Raul Tamudo, Nestor Calderon, Alberto Medina, and Mauro Cejas, but this offense has only scored one goal and against the worst team of the Liga MX- Queretaro. The good news is that their biggest offseason signing, Nery Castillo, was on the bench against Queretaro and did not play in the middle of the week in the Copa MX which means he is set and ready to make his debut in the Mexican league. Castillo and Hugo Sanchez go far back to the days when Hugo coached the Mexican national team, therefore project Castillo to be a starter and give that offense a well needed push.
Xolos has a different beginning of the season as opposed to Pachuca because although they received four goals against newly promoted Leon, they also managed to win their two games at home with shotouts (2-0 against Puebla; 1-0 against Pumas). This shows that Tijuana's defense is still the strongest line of the border team and that Pachuca will have a difficult time scoring. On the offensive side, Xolos has suffered gravely because its 3 goals this season have come on set pieces, meaning its forwards have yet to score. Duvier Riascos has played well by gaining ground on opposing defenders with his speed and playmaking, but the real trouble in with Alfredo Moreno who has had difficulty replacing the whole left by Pepe Sand. Tijuana needs its top signing, Fidel 'Neymar' Martinez to start playing on form and to produce. If Martinez plays, it will allow Riascos to move towards the middle rather than on the right, allowing the Colombian to take more shots on goal.
Prediction: Both teams have started the season on fair terms, but Pachuca has the talent to be Mexico's top team. Xolos is playing well but it is obvious from the beginning that the offense is worst than last season, and there are no signs for improvement. With the incorporation of Nery Castillo and its recent victory, the Tuzos will give Antonio Mohamed and his Xolos a hard game, but at the end both teams will miss the offensive power they desire. The game will have a 1-1 score.
Television: The Pachuca vs Xolos match will be shown on Telefutura on Saturday, August 11, 2012 at 8:00 PM EST.