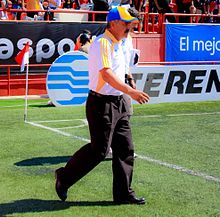 The Tigres vs Queretaro match at Estadio Universitario on Saturday, August 11, 2012 at 8:00 PM EST will almost certainly be Carlos de los Cobos' last match with Queretaro.
Tigres looked very good in the first two matches, apparently hit the brick wall that is the Atlas defense at home, and came back from Guadalajara with just a point. I'm sure El Tuca is happy with his team (even if he looks constipated all the time), having gotten seven points while only receiving a single goal. Tigres has an outstanding defense, something which El Tuca has become an expert at achieving with the teams he coaches. Although their offense may not be overwhelming, they can score when given the chance. Overall, Tigres is one of the top teams with a legit shot at winning the Liga MX,
Queretaro is the complete opposite: three losses, no goals scored, and six goals against. They have struggled in all matches, static on defense, inept on the attack, and an overall mess as a whole. I think it's safe to say, that facing the best defense in Mexico, Queretaro's streak of not scoring will continue for one more match. Four losses in a row will be too much for the Queretaro ownership to forgive, and they will have no choice but to send De los Cobos running back to ESPN Deportes.
Prediction: The match won't be close, Tigres playing at home is an outstanding adversary against any opponent, and Queretaro is a really bad team (they would even be bad in the Ascenso MX). Look for a complete destruction of Queretaro in this match; Queretaro's players are demoralized, and they won't be able to fight off the infinitely superior Tigres squad. The score will be Tigres 3 – Queretaro 0.
Television:  The Tigres vs Queretaro match will be shown on Univision Deportes on Saturday, August 11, 2012 at 8:00 PM EST.