The Club America vs Atlas match at Estadio Azteca on Saturday, August 11, 2012 at 6:00 PM EST will be a tight match contested by two undefeated teams. America is coming off a come-from-behind tie at Atlante, a match the demonstrated the team's resilience. Atlas hosted a very tough Tigres squad, and did what it became famous for doing during the Clausura 2012: ending a match 0-0. Both teams are currently undefeated and playing at a decent level; however, I predict that one of these two teams will no longer be undefeated by the end of the week (hint: read below to see who it will be).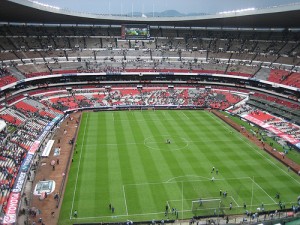 Club America has demonstrated that it's a team that has enough guts to pull through to achieve the necessary results. Against Monterrey, Club America hunkered down and grinded out the 0-0 draw. Against Jaguares at home, they grinded out a… well ok, it was just Jaguares, so America simply showed up and clobbered the Chiapanecos. Lastly, being down two goals against Atlante, America never gave up and managed to tie up the game. Thus, Herrera knows how to keep his guys motivated; expect America to go out on the attack with the mentality of winning the three points.
Atlas has been playing similar to America: toughing out the games in order to get the result they want. Last week at home, Atlas nullified a very good Tigres team and got the 0-0 draw it has accustomed us to. Atlas can also show signs of brilliance at times, like it did in the match against Pachuca (3-0 away win). I expect Atlas will go into El Coloso de Santa Ursula with a defensive scheme, trying to take the game down to the last minutes with a 0-0 score.
Prediction: Club America, from the very get-go, will want to attack and go for the win; Atlas will bunker up and hope the match ends in a draw. I believe America has too much offensive talent to not win at home against an inferior opponent (on paper). Club America will score and force Atlas to open up, eventually leading to an America victory. The score will be Club America 2 – Atlas 0.
Television:  The Club America vs Atlas match will be shown on Univision on Saturday, August 11, 2012 at 6:00 PM EST.