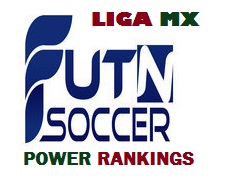 Week 3 of the Apertura 2012 of the Liga MX demonstrated how equal most of the teams are.  There are only three teams that have showed real superiority (Toluca, Tigres, Santos), while 10 others indicate that the fight for the playoffs will be very challenged as a total of 13 teams have a clear opportunity to play in it.  Santos remains on top of the FutnSoccer Liga MX Power Rankings because they are still producing points, they have yet to lose, and because they are they reigning champs but this week showed that they have yet to play at their full potential.  Toluca on the other hand lead the season standings with 3 out of 3 wins and show no signs of weakness addings another elite threat to the Liga MX.  Finally. teams like Chivas, Pumas, and Pachuca continue to disappoint because they still have not reached their top playing ability.  Week 3's biggest power rankings winner was Xolos of Tijuana who gained 4 positions while the biggest loser was Cruz Azul who lost 3.
Week 2 FutnSoccer Liga MX Power Rankings
Week 1 FutnSoccer Liga MX Power Rankings
1. Santos Laguna (Previous: 1(=); Standings:3 ) Santos had a difficult game against Puebla, however they are still top-5 on the table and have yet to lose. Santos will undoubtedly be in the playoffs this season but if they play again like they did against Puebla, they will go down the power rankings.
2. Toluca (Previous: 4(+2); Standings: 1) Toluca has played the best soccer this season. They are not on top of the rankings because Santos continues to make points but Toluca is very well coached, has an outstanding midfield and could very well lead the Liga MX this season if they keep playing the way they have.

3. Tigres (Previous: 2(-1); Standings:2 ) Tigres played a very defensive (and boring) game against Atlas in what is seen as 'Tuca' ball. Tigres has been superb on the defense and they are a threat in the offense. A classy team with classy fans, this team wil be top-5 week after week.

4. America (Previous: 3(-1); Standings:7) America's defense showed signs of weakness against Atlante by allowing two first falf goals. However, they were able to tie the game which shows the quality, mentality, and offensive threat that this tea has to offer.

5. Leon (Previous: 5(=); Standings:4) Newly promoted Leon lost its first game of the season after winning the first two. They were not dropped from the rankings, but rather ascended because they never backed down versus Toluca even when the score was against them. This team shows they can dominate a game, they play with a lot of passion, and interestingly, their main players are the ones that led this team to the first division.
6. Xolos (Previous: 10(+4); Standings:5 ) Xolos won its second match of the season after losing 4-0 last week (away) against Leon. With two home wins, Tijuana shows that they are not going to lose home points unlike the last two seasons. However its 3 goals this season have been on set pieces demonstrating a weak offense which also puts a lot of pressure on the defense to do good.

7. Morelia (Previous: 7(=); Standings: 8 ) Morelia had its first moment of weakness this season by receiving 3 goals against a weak San Luis. What makes this team strong is its coach, Ruben Omar Romano, because they were able to get back on its feet and score two late goals in the last 8 minutes to equalize the final score 3-3.

8. Atlas (Previous: 9(+1); Standings: 6) Atlas has a classy defense with a regular offense. They have only received one goal which shows their defense which only received 11 goals last season was no bust. Teams will need to be careful with this team because it has all the power to be a strong playoff contender.

9. Cruz Azul (Previous 6(-3); Standings: 9) Cruz Azul has been a good team defensively with only 1 goal against but it has only scored twice. With such a vast offense led, this team has yet to gain its top form, but when they do others will need to be careful.

10. Monterrey (Previous: 11(+1); Standings:11 ) Monterrey scored its first two goals of the season and also won its first by defeating a fading Jaguares. Good for the team of the north because with these 3 points they enter the fight for the top standings before it is too late.

11. Pumas (Previous: 8(-3); Standings:10 ) Pumas was nowehere to be seen against Xolos in the syntetic field of the Estadio Caliente. Forwards Emmanuel Villa and Luis Garcia had no attack while the defense had one mistake which cost them the game. This team has some work to do as they have been unstable thus far.

12. Pachuca (Previous: 12(=); Standings: 12) Pachuca finally won its first 3 points of the season by scoring its first goal of the season against the weakest team, Queretaro. Their play has been sloppy thus far, especially in the offense but the season is young and this team has a reasonable 4 points.

13. Atlante (Previous: 13(=); Standings:13 ) Very well coached team that lacks talent and depth. Atlante lost a 2-0 lead against America which shows that this team has the ability to play well against anyone. Imagine what coach Ricardo LaVolpe could do with a team with depth?

14. San Luis (Previous: 15(+1); Standings:14 ) San Luis was very close to obtain its first win of the season against a well-coached Morelia. However, San Luis demonstrated once again why playing good is not enough in the Liga MX because they lacked concentration, fitness, and most importantly talent because they were unable to hold a 3-1 lead within the last 8 minutes of the game.

15. Chivas (Previous: 14(-1); Standings:15 ) One point for Mexico's most popular team. Chivas's playing is regular but the offense is yet to give results-a plus to Chivas is that although they have lost 2 out of 3, they have played fair against three very difficult teams this season. Good things to come?
16. Puebla (Previous: 17(+1); Standings:16 ) Finally this offense became alive. After losing the first half 2-0 against Santos, Matias Alustiza scored two 2nd half goals to give this team their first point of the season.

17. Jaguares (Previous: 16(-1); Standings:18 ) Jaguares had some signs of life against Monterrey in the Tec but once again the defense was weak and two goals against was enough to lose 3 out of 3 this season.

18. Queretaro (Previous: 18(=); Standings:17 ) This team just cannot get anything right. They faced a strong squad (Pachuca) and were close to a tie but at the end they lost their third straight match and have yet to score a goal.