The Toluca vs Leon match at Estadio Nemesio Diez on Sunday, August 5, 2012 at 1:00 PM EST will end the winning streak of one of these two teams. Leon and Toluca are two out of the four teams that have won all of their Liga MX games so far; however, Leon has been impressive, scoring six goals while not conceding a single goal. Although neither squad is considered a "big" team, this is a must-watch game, as both have been playing excellent soccer so far.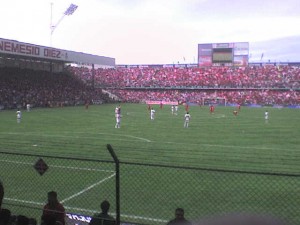 During their Week 2 match, Leon simply swept aside a shocked Xolos squad with three magnificent goals (and a penalty) at the Nou Camp for a resounding 4-0 victory. When you also consider the fact that Leon won against Queretaro, and had an excellent preseason, you can see that Matosas has discovered a way to motivate his team immensely. The Leon players, to put it simply, look motivated, very motivated, as though every match is the World Cup final. How long can Matosas keep his players at this intensity level?
Toluca defeated a hapless Puebla in their own stadium by a 3-1 score, a week after defeating Chivas 2-1. Toluca has been playing smart soccer, scoring when the opportunity arises, and playing decent defense, which has looked vulnerable at times. Toluca is never an easy team when it plays at home: the altitude and noon heat play an important role in their home successes.
Prediction: Leon has been superb so far, keeping a clean sheet throughout two games while simultaneously scoring six goals. Although Toluca has won both their games, they have looked shaky at times. I believe Matosas will be able to keep the Leon train rolling, and will be able to pull off another away win. The score will be Toluca 1 – Leon 2.
Television: The match will be shown this Sunday at 1 PM EST on the best channel ever, Univision Deportes Network! Seriously though, UDN is killing the Liga MX fan-base here in the US. Hopefully UDN either gets picked up by cable providers soon, or becomes such as money-loser that Univision will be forced to show the matches on their regular channels again. We can only dream…
To confirm, the match will be on this Sunday, August 5th at 1 PM EST on Univision.