It is time for Celaya to pay the visit to Pumas in the Copa MX week 2 match scheduled for Tuesday, July 31 at 7:00 pm PST at Estadio Olimpico Universitario.
In their first encounter last week, Pumas and Celaya tied with no goals in a game that was delayed for a couple of hours due to a heavy rain.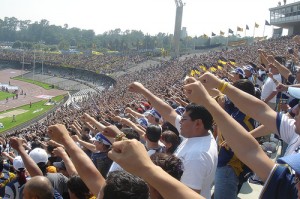 Pumas going for the 3 points
Pumas comes from a great win at home versus Queretaro, full of confidence and ready to take on Celaya at home as well. This is definitely an opportunity for Villa (if lined up) to start scoring and for some of the youngsters in the team to gain more experience, and of course to finish the job for the first round and take the three points.
For this to get done, Joaquin Del Olmo must use some of the players that played against Queretaro. It is of course a matter of seeing which ones could play as the Celaya match is only two days removed from the match against Queretaro.
Celaya: this is the time to show off
Last week Celaya did not have an opportunity to "show" their game, as many of the other Ascenso teams showed against their "bigger" opponents (Veracruz over America, Lobos defeated Toluca, etc.). But this Tuesday and with a field that will not be full of water and mud, and against a Pumas squad that will most likely be an alternate side, Celaya will have the chance to show off.
My guess for this game is that Pumas will win if they line up some players with experience. It could be a game for players like Morales, Espinoza, Luis Garcia and Eduardo Herrera and maybe the return of Luis Fuentes to get some more minutes. A 1-0 seems like a fair score for this match that will not be broadcasted in American networks.