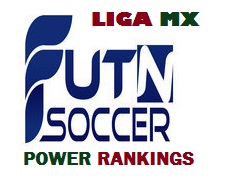 Week 2 of the Apertura 2012 of the Liga MX was a week of contrasts.  First, strong teams like Santos Laguna, Tigres, and America continued to play as the best teams in the league. With Santos and Tigres on top of the FutnSoccer Power Rankings, the northern teams keep on dominating the Mexican soccer league.  On the other hand, strong playoff contenders like Pumas, Morelia, and Cruz Azul are finally playing with good rythm and are close to their full potential.  However, this was a week of contrasts because several teams defrauded the expectations or what they had previously demonstrated.  Xolos of Tijuana lost to Leon by four goals after winning during the first week, creating doubts about the full potential and ability of the border team.  Also, two of Mexico's strongest squads, Pachuca and Monterrey, are playing terrible games.  With the best two offenses on paper, these two teams have yet to score their first goal.  Week 2's biggest power rankings winner was Leon who escalated 7 spots while the biggest loser was Monterrey who lost 8.
Check out all the goals from Week 2 of the Liga MX
FutnSoccer Power Rankings Week 2:
1. Santos (Previous: 1(=); Standings: 4) The reigning champs kept their winning streak by defeating Chivas at the Omnilife. Santos is playing well, still not at their full potential but the fact that they are winning games keeps them as the top ranked team in the Liga MX.
2. Tigres (Previous: 2(=); Standings: 2) Tuca Ferreti's team keeps on winning tough matches. In the home presentation against Atlante, Tigres was able to defeat a well-coached, defensive team with two late goals.
3. America (Previous: 4(+1); Standings: 7) In their first home game at the Estadio Azteca, America looked fenomenal in the offensive side against the league's poorest defense, Jaguares. America has a lot of power, and this could be a historic year for the team from Coapa if their positive game continues.
4. Toluca (Previous: 6(+2); Standings: 3) Toluca has played outstanding under new coach Enrique Meza. After beating Chivas in the first week, Toluca now destroyed the weakened Puebla 3-1. Fortunately for Toluca, they still have not suffered from the exit of famed striker Ivan Alonso.
5. Leon (Previous: 12(+7); Standings: 1) Cinderella team? The newly promoted Leon keep a non-losing streak of 20+ games in regular season matches that dates back to the Apertura 2011 of the Liga de Ascenso. Two victories to begin the season put Leon on top of the league.
6. Cruz Azul (Previous: 7(+1); Standings: 8 ) From the teams that made important player acquisitions, Cruz Azul is the squad that has done the best. This team has played a smart defensive game, while at the attack goals finally came their way.
7. Morelia (Previous: 9(+2); Standings: 9) Very well coached team by Ruben Omar Romano. Morelia beat Monterrey 1-0 in what was a very difficult game against one of Mexico's strongest squads. With 4 points against two strong teams (Cruz Azul being the other), Morelia has not allowed a goal and this team is balanced and efficient.
8. Pumas (Previous: 10(+2); Standings: 5) After a heartbreaking tie against Atlas in Week 1, Pumas came back to life and attacked non-stop the weakest team in Mexico, Queretaro.
9. Atlas (Previous: 11(+2); Standings: 5) Atlas scored 7 goals all last season; against Pachuca they scored 3 and now have 4 in the season. Defensively this team looks great, and be careful, Atlas has all the potential to become a playoff team.
10. Xolos (Previous: 5(-5); Standings: 10) After a good week 1 victory against Puebla, Xolos played Leon in what should've been a manageable game. Instead, Xolos played its worst game in their short first division history by getting destroyed 4-0 (Or did they? No one could watch the game since it was not televised)
11. Monterrey (Previous: 3(-8); Standings: 12) Monterrey began the season with a difficult schedule against America and Morelia. They were this week's biggest loser in the power rankings because a team that has had as much success as Monterrey should not play in the manner they are at the moment. This team has a complete offense, but that offense has not scored a goal yet.
12. Pachuca (Previous: 8(-4); Standings: 13) Hugo Sanchez on the way out? Maybe not yet, but Pachuca has looked deplorable. It is unjustified that the best squad in the Liga MX has yet to score. Not only have they failed in the offense, but they conceded 3 goals against Atlas.
13. Atlante (Previous: 14(+1); Standings: 11) Atlante is well coached under Ricardo LaVolpe, unfortunately, this is a weak squad and triumph will be a difficult reach. However, they still have a long way to go and many things can happen.
14. Chivas (Previous: 13(-1); Standings: 15) Disappointing, just disappointing. This team just can't get anything their way, and this week marked their 7th straight loss. Chivas lacks offensive style, they cannot shoot at goal, but most significantly, the defense has been left alone on the counter-attack against Toluca and now Santos.
15. San Luis (Previous: 16(+1); Standings: 14) Like Atlante, San Luis has played fair games but they have a weak squad. This is still a low-table team that needs to make points quickly to not get involved deeply in the relegation battle.
16. Jaguares (Previous: 15(-1); Standings: 18) Jaguares may make coaching changes soon. This team has not looked the same since the departure of striker Jackson Martinez. Yes, they have played two strong teams to begin the season (Tigres, America), but this was a playoff team just two months ago and now they lost two games and have conceded the league's worst, 8.
17. Puebla (Previous: 17(=); Standings: 16) Puebla once again looked without offensive idea, and its defense was easily taken by Toluca.
18. Queretaro (Previous: 18(=); Standings: 18) Carlos de los Cobos may be the first coach on the way out. There is no time for this team to get their game together; they need good results now. Although they are second to last in the relegation fight, last place Atlas is playing well and will soon leave the last places.
Take a look at the previous (Week 1) FutnSoccer Power Rankings