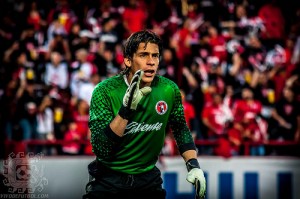 Leon will have their home opener against Xolos de Tijuana at Nou Camp on Friday, July 27, 2012 at 10:30 PM EST. It has been over 10 years since the Nou Camp last hosted a top division match; the famously passionate Leon crowd will be ecstatic. I foresee that the match intensity felt at field level in this match will not be surpassed in any other game in Week 2. For those reasons, I have designated this match as the Game of the Week.
Leon is coming off an excellent 2-0 win against Queretaro in La Corregidora. This was a very important win, due to the relegation implications that the match presented. Xolos also won their first Liga MX game, defeating a weak Puebla squad 2-0 at home. Both teams so far have shown good quality soccer, playing smart defense and although not having huge offensive firepower, do know how to score when the opportunity arises.
Leon had a great preseason, won its first game, and is debuting in front of its home crowd after a ten year absence in Mexico's top soccer division. On the other hand, Xolos is a well-organized team that always plays tough in away matches; if El Turco were to be known for just one thing, it would be how to get points while visiting other stadiums. This Leon vs Xolos match will definitely be intense, and should provide the best entertainment of Week 2 (although Chivas vs Santos should also be good).
Click here to view the players that Leon acquired during the off-season (which were a lot, due to the "partnership" with Pachuca).
Prediction: I believe that the match will be intense, possibly equaling the feeling in the Ascenso MX Promotion championship between Leon and UAT. Xolos will come in with a smart, defensive formation that will focus on clogging up the midfield, while relying on the counterattack. Leon will be propelled to the attack by the crowd and the moment. In the end, I expect a very tight match that will end in a draw. The score will be Leon 1 – Xolos 1.
Television: It appears the match will not be televised anywhere (won't even be available through online streams), due to an issue between Leon and the Mexican televisoras. Fox Deportes was originally scheduled to show the game in the USA, I will update if the situation changes. Overall, it's a shame that the Liga MX Week 2's best match might not be shown anywhere. Guess we'll have to look for a radio stream…
Radio: http://www.lamejor.com.mx/playlamejor/live/tijuana (Spanish)
http://tunein.com/tuner/?StationId=43935& (Spanish)
Do you think this is the week's best match?