Monarcas Morelia and Club America will play a friendly match at Candlestick Park in San Francisco, CA on July 15, 2012 at 3:00 pm. This will be America's final game out of four friendly matches it scheduled as part of its USA preseason tour. America tied Xolos 1-1in the first friendly on June 30, defeated Pachuca 1-0 on July 7 in Chattanooga, TN, and lost 2-1 against Cruz Azul in a match held in Dallas on July 11. This match against Club America in San Francisco will be Morelia's first and only match scheduled in the United States (no love for its US based fans).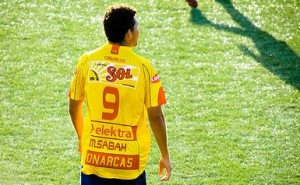 America scheduled a lot of matches in close proximity for the finale of its US tour: three matches in eight days to be exact. Add to this the fact that the players will have to travel from Chattanooga to Dallas and finally arrive at San Francisco, you know that player fatigue will be an issue. Fans should expect to see players on the field who won't be regular starters once the Liga MX starts up in two weeks. I also expect that plenty of subs will be used, which is fairly typical for a low-intensity friendly match.
Morelia on the other hand did a better job with its scheduling, it tied 1-1 against Atlas on July 7th, and will then have an entire week to prepare and rest its players for the match against America. Expect Monarcas Morelia to use most of its starters for at least a full half; they will likely also use several substitutes in order to spread the playing time around.
This America vs Morelia match in San Francisco will not be a Liga MX quality game, even if it is indeed two Liga MX teams playing each other. Fans should expect to see two teams playing at half-throttle, simply working on teamwork and fitness (no player wants to risk injury just one week before the Liga MX starts). However, having a chance to watch Club America is always a thrill for US based fans, so I expect a decent crowd will show up at Candlestick Park. Tickets for the match are available at Ticketmaster.com and Ticketmaster locations.