NOTE: Please join us here for live play by play commentary of the Leon vs Santos Match, starting at 5PM PST.
Santos Laguna and Leon will play a friendly match at the Home Depot Center in Los Angeles, California on July 8, 2012 at 5:00 pm. This will be Leon's first friendly match in the United States as an official Liga MX team. The opposing team, Santos Laguna, played the Rayados de Monterrey on July 3 in La Joya, Texas, in a match that ended in a 1-3 loss for the Laguneros. The match at Home Depot Center will be Santos' second and final friendly match scheduled for its USA preseason mini-tour*; Leon has no other matches scheduled in the US.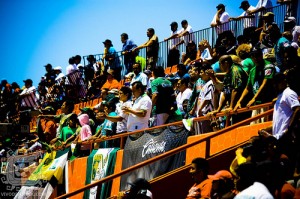 Both teams have fairly congested schedules coming up, it is to be expected that the fans will see many unfamiliar faces on the field (bench-warmers), and plenty of substitutes will be used throughout the match. However, a decent match can be expected, Leon's players are hungry to prove themselves to their coach and want to make a good impression in order to win a starting spot on the team. Leon showed they are intense about every match they play, winning the Cuadrangular de Leon by defeating Pumas 4-3 in the final.
This match might might not be spectacular in terms of futbol quality (due to the heavy workload both teams are facing), but the fact that Leon is finally back in the Primera Divi… I mean Liga MX, combined with a chance to watch the defending Mexican League champions is worth the price of admission .
I could not find tickets to the match on Ticketmaster, but they can be purchased directly through the Home Depot Center website. The game will be broadcast live by Azteca America.
*MedioTiempo reported that Santos and Toluca will play on July 11 in Albuquerque, New Mexico. However, I could not find any other source that stated the same, and did not find tickets on sale anywhere; I am assuming the game has been scrapped. If you have any info about this match, please let me know in the comments below.