Xolos and Club America met at Qualcomm Stadium in San Diego in front of an announced crowd of 19,880, on a warm June 30th night. The friendly match ended in a 1 – 1 draw, with two goals in the last 10 minutes, which left everything exactly as it had began, tied; the match served its purpose as both squads prepare themselves for the Apertura 2012.
The first half had few attacking chances on either side, and neither team was able to score. Duvier Riascos appeared to be the most dangerous attacker on the Xolos side, piercing the America defense on several occasions. However, the crowd would have to wait until late in the second half to finally see what they all came for.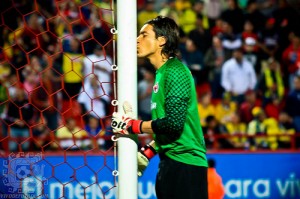 America scored in the 82nd minute on a quick, and perfectly executed counter-attack, which culminated with a perfectly placed strike by Miguel Layun. Xolos didn't give up though, and went forward on the attack in an attempt to tie the match.  A great passing play inside the Club America box led to a foul on Fidel Martinez, and a well-called penalty. Fidel Martinez himself, the Ecuadorian Neymar, took the penalty shot and scored a superb "Panenka" style  goal. The 86th minute goal was a masterful shot, simply lobbing the ball into the middle of the net as the goalie looked on helpless on the ground; this was also Fidel's first goal with Xolos.
The match wasn't overly exciting, but the crowd got to see a couple of goals and all of their favorite stars (plus an excellent penalty shot). In the end, the match served the purpose of preparing the players for the upcoming Apertura 2012. It serves to mention that America and Xolos have now met three times (2 league matches and this friendly), which have all ended in 1 – 1 draws.
All Goals of the Xolos vs America match:
[youtube XG_MDXW32Lc]
Source: Youtube – TJSports
Can't wait to see Fidel Martinez in the Apertura 2012, the young player has the moxy and confidence of a great player. What did you all think about the game?