Egidio Arevalo will no longer play with Xolos de Tijuana, and will instead join the Serie A side Palermo. Arguably the best defensive midfielder in the Mexican soccer league this past year, Arevalo generated plenty of interest from Palermo, which prompted the sizeable transfer fee of 2.5 million Euros for his outright purchase. The Italian-based squad has plenty of confidence in Arevalo's skills, investing 2.5 million Euros and signing a three-year deal with the 30-year old midfielder.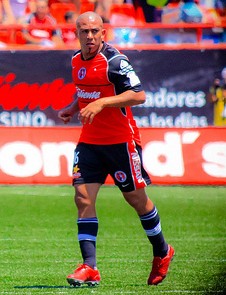 Egidio Arevalo has proven his worth in the past two years, being an undisputed starter in the Uruguayan national squad that reached the semi-finals of the 2010 South Africa World Cup, and won the Copa America in 2011. Furthermore, Arevalo was a key figure with the Xolos de Tijuana, being the main ball-winner in the Xolos midfield, and serving as the beginning point for most attacking movements.
What this means to Palermo:
Palermo has made a wise decision, even though Arevalo is already 30-years old, he is well worth the 2.5 million euro investment. Arevalo has proven time and time again, be it with the Uruguyan squad, or with Xolos, that he is capable of dominating the midfield and stopping opponents' attacking plays. Arevalo is a dedicated player who consistently maintains a high level of play, and he will surely be a welcome addition to the Palermo squad.
What this means to Xolos:
Xolos should be worried; they have lost the team's best player and a vital piece of their midfield, which helped solidify their defense as the best in the Mexican league. Currently, Xolos has no players even close to Arevalo's skill level in the defensive midfielder position. Fernando Arce and Leandro Augusto could potentially fill the void, but their style of play is better suited for leading offensive attacks, not for ball-winning roles, making both of them unsuitable for the defensive midfielder position. It is likely that Noe Maya will step in and replace Arevalo's position (pending any new acquisitions by Xolos); however, Maya isn't even near the same level of play as Arevalo, and would be regarded as a bench player in most Liga MX sides.
With the newly acquired funds Xolos has received from the sale of Arevalo, Xolos is forced to look for a foreign player to fill in the void left in the midfield. Furthermore, Xolos has also sold striker Jose 'Pepe' Sand to Racing Club of Argentina, and is thus left with one open spots for a foreign player (Xolos added Fidel Martinez earlier this month). I suspect Xolos will target a defensive midfielder from a South American club, as it has already reinforced its offense with the additions of Chango Moreno and Fidel Martinez. If Xolos does not reinforce its midfield with a proven star from a South American squad, it will leave its midfield in the hands of two aging players, Arce and Augusto, and Noe Maya, a midfielder without the talent to be a regular starter in the Liga MX. This could severely hamper their ability to repeat a successful run to the playoffs, and could even hurt their stance in the Liga MX. However, Arevalo's sale to Palermo was rumored nearly six months ago, and I have no doubt that the Xolos ownership has planned for it and has several potential replacements in mind. We shall see which defensive midfielder Xolos acquires in the next three weeks.
What this means to Egidio Arevalo:
A well-deserved prize for such an outstanding player, he will finally have the chance to play in a major European league and prove his worth against high-quality players. His skill level was simply too good to be "wasted" in the Liga MX.
Will Arevalo succeed with Palermo? Can Xolos recover from the loss of such as key figure? Let me know your thoughts in the comment section below.