In an effort to keep the 23-year old Mexican striker, Carlos Vela, on the squad, Real Sociedad has made an offer of 3.7 million Euros to buy Vela permanently from Arsenal. Vela was a key piece in the Real Sociedad offense, netting 12 goals in 35 appearances in La Liga during his loan period this past season. Vela has also demonstrated a desire to stay with Real Sociedad, having foregone participation with the Mexican National Team this summer, to instead focus on having a good preseason with Real Sociedad.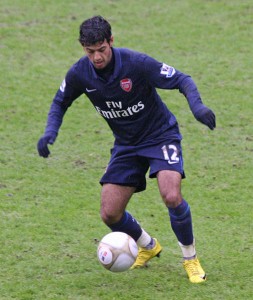 As much as Real Sociedad would love to have Vela, and as much as Vela would like to stay at Real Sociedad, it is unlikely that Arsenal will let him go for anything less than the 7.5 million Euros it has officially requested for Vela. Unless the Spanish team can cough up a couple extra million Euros, Carlos Vela will not be playing for Real Sociedad next season. Carlos Velas´ successful performance this past season has driven up the price of his transfer pass, making him  inaccessible for a low to mid table team like Real Sociedad.
I predict that Carlos Vela will return to Arsenal, and unless another team makes an offer before the summer transfer season ends, he will spend at least the first semester of the 2012-13 season riding the bench at Arsenal. A real shame, given that Vela has shown he is a striker worthy of being a starting player in most European club sides.