Pablo Barrera will leave West Ham United and join the Mexico City based team, Cruz Azul. The 25 year old Mexican midfielder spent two years in Europe, one at West Ham United, and the other on loan at La Liga's Real Zaragoza. Barrera was never able to establish himself as a starting player at either West Ham or at Real Zaragoza, playing just 15 games for West Ham, and 20 games for Zaragoza; Barrera scored just 1 goal in two years. Barrera's move to Cruz Azul will be on a definite purchase, and can be seen as a coup for Cruz Azul, as Barrera is still a quality player who is a starter in the Mexican National Team.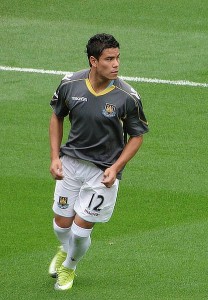 Pablo Barrera will join the likes of Mariano Pavone and Luis Perea as the latest addition to Cruz Azul. Cruz Azul can be regarded as having the second best transfer period so far in the Mexican soccer league (after Pachuca); now having successfully reinforced its defense, midfield, and offense with high quality players like Perea, Barrera and Pavone. With a new coach at the helm and several quality transfers, the Cruz Azul ownership is hoping to end its 15 year long championship drought.
Pablo Barrera will benefit from this transfer to Cruz Azul, he will return to Mexico and play again for a Mexico City based squad (he played for Pumas before his transfer to West Ham). Furthermore, Barrera will be coached by Guillermo Vazquez, a coach he has worked before at Pumas and who knows his style of play well. Barrera was never able to adapt himself to life in Europe: he never learned English, was inconsistent in his style of play, and even dropped his level of play with the Mexican national squad. I believe that playing "back at home" is just what a player with Barrera's personality needs,  I predict that he will raise his level of play and regain the fantastic skills we had once seen from him.
What do you guys think, is Barrera a good transfer for Cruz Azul? Will he regain his form as one of the best midfielders in Mexico?