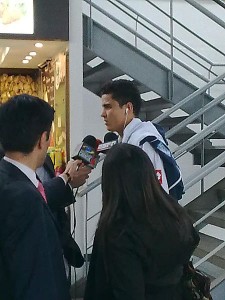 China's sensation team, Shanghai Shenshua has added its third world-class star to its squad.  After last season's signing of Frenchman Niklas Anelka, and last week's of Ivory Coast's Didier Drogba, Shanghai added talented Colombian midfielder Giovanni Moreno to its ranks.  Moreno who was once mentioned to go to Liga MX clubs such as Xolos of Tijuana and Club America, finally decided to play alongside the ex-Chelsea stars Anelka and Drogba for a sum of 4.7 million euros.
It had been rumored that the 25 year old was sure to leave Club Racing of the Argentinian league because of threats made against him and his family by some of the club's fans.  Many teams were interested in his playmaking abilities, but Moreno chose to play in the unskilled Chinese league to have the opportunity to play along players with world class talent like Anelka and Drogba.  This is another move that can lead to the Chinese league to start inviting important players to its expanding league, similar to what Major League Soccer has attempted to do.
Moreno is a very talented central midfielder who is still very young, therefore will this be a smart career change?  He may have lost his immediate opportunity to move to competitive leagues like the Brasileirao, Liga MX, or even Europe, but good appereances can translate to future Colombia national team call-ups. However, if Moreno cannot adjust to China, his career may take a hit at the club level; but most importantly it could further injure his national call-up reputation.