NOTE: Please click here to view the latest analysis of the Xolos vs America friendly.
America and Xolos will fight for the San Diego Classic title in a friendly match at Qualcomm Stadium in San Diego, CA on June 30, 2012 at 7:30 pm. As a part of their pre-season schedule en route to the Apertura 2012, Xolos de Tijuana and Club America will face off in what is expected to be an enticing match in roomy Qualcomm Stadium.
The San Diego Classic was last played in February, 2012 at Torero stadium on the University of San Diego's campus, which the Xolos won by defeating Chivas USA 5-2. This edition of the San Diego Classic is expected to bring in many more fans to the stands, due to the popularity of the regional team, Xolos, and the renown and international following of Club America. The match will be held about three weeks before the Mexican soccer league begins, it could thus be expected that most of the starters will make an appearance.
Buy your Xolos vs America Tickets here
I expect a feisty game, where the crowd will be rooting for their respective sides very strongly, even if it is just a friendly match. The last match between America and Xolos was played at Estadio Caliente as part of  the Clausura 2012. I went to all games at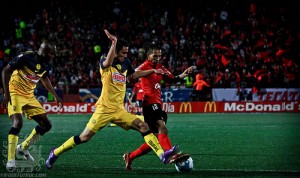 Estadio Caliente last year, and I can say without a doubt that it was the match where the fans were the roudiest and the loudest. The match ended in a 1-1 draw, a game where America held a 2 man advantage for very large portions of the game; this led to Xolofans ending the game chanting "No pudieron! No pudieron!" (they couldn't do it!).
If the June 30th edition of the San Diego Classic is even half as intense as the match at Estadio Caliente, it would be well worth the price of admission. Furthermore, getting a ticket to a regular season Xolos match is near impossible unless you have a Xolopass (season pass); the San Diego Classic allows thousands of fans without the Xolopass to join in on the fun.
Buy your Xolos vs America Tickets here