Pachuca announced that Raul Tamudo will be the latest transfer that will join the Mexican soccer league team. Tamudo is a 34 year old Spanish striker that played last season with Rayo Vallecano in La Liga, where he scored nine goals in 34 appearances. Raul Tamudo is best known for his play at Espanyol, where he scored 129 goals in 340 appearances, becoming the Barcelona based squad's highest scoring striker.
At 34 years old he can be considered a veteran striker, and his possible contribution to Pachuca's offense might be questionable. However, Luis Garcia, another veteran Spanish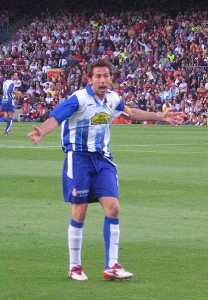 striker came to Puebla last season and scored 13 goals. Pachuca is hoping that Tamudo's excellent track record and experience can translate to similar results.
With Raul Tamudo, this becomes Pachuca's sixth addition of this transfer period: Néstor Calderón, Efrén Mendoza, Óscar Rojas, Jorge Hernández, Alberto Medina and Raúl Tamudo. Furthermore, there are still strong rumors that Nery Castillo will join los tuzos as well, a transfer that might be confirmed as early as tomorrow (6/14/2012). Pachuca is building a great team, lets wait and see if Hugo Sanchez can lead this team to glory and more championships.
Will Pachuca be a main contender for the Apertura 2012 Liga MX championship title?