The Mexican national soccer team defeated El Salvador in front of a fierce Salvadorian home crowd in the Cuscatlan.  One day before the actual match had begun, it seemed that a game was already being played between the home fans against the Mexican national players.  Keeping the CONCACAF Brazil 2014 World Cup Qualifiers tradition alive, the Salvadorian fans 'welcomed' the Mexican team at the airport and then again at their hotel by singing and chanting with all the available words in a 'no-no' vocabulary.  Nonetheless, the ambient was ready for what was going to be one of the most anticipated matches of round 3 in the qualifiers.
The match begun in front of a loud Cuscatlan, and right away El Salvador took possession of the ball.  The home team looked focused and with the objective to score a quick goal.  The first fifteen minutes passed by with El Salvador having the closest plays on goals but no real danger was made.  Past the twenty minute mark, Mexico seemed calm and its players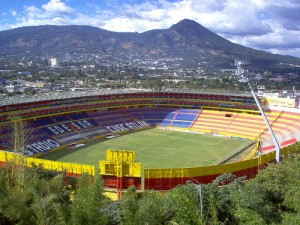 nervous no-longer.  El Tri then had several poor scoring attempts with the most danger coming from Pablo Barrera, however the half ended with both teams playing an intelligent defensive game.
At the second half, Mexico took possession of the ball, thus gaining momentum for more scoring plays.  Although they improved their game, Javier Hernandez was not able to create real scoring threats.  Finally, in the 60th minute midfielder Eduardo Zavala scored the 1-0 for Mexico after a mistake by the Salvadorian defense.
After the goal, Mexico's coach Jose Manuel De La Torre ordered to play a more defensive formation but was quickly encountered with the 1-1 tie.  After a foul near the outside box, Alfredo Pacheco kicked the free kick to Jesus Corona's nearest post leading the crowd to explode into astounding cheers.
The tie once again led to a game with poor quality soccer, many fouls, and few attacking opportunities.  It was in the 80th minute after a Mexico free kick cross that the definite 2-1 goal came;  Hector Moreno put it inside the Salvadorian net after a possible offside.  During the play, Moreno was on-side when the cross was made but there is doubt that Javier Rodriguez touched the ball with his heel which would make the goal invalid.
Summary: This was Mexico's second game of the qualifiers, the win putting them in first place of  Group B with six points in front of Costa Rica who also won and has four.  El Salvador on the other hand played a great match but had a difficult loss leaving them in third place with one point. Overall, Mexico played a very poor game but its superior talent was enough for the three points.  Also, the referees had a terrible game against both sides by not giving yellow cards to either side when the foul called for it, leading to a very physical game.