The 3rd Round of the CONCACAF World Cup Qualifying process is about to begin, while several teams started the qualification process months ago, the regional heavy hitters are about to enter the fray. Let's take a look at the teams make up Group C and analyze their possibilities for moving on to the final round.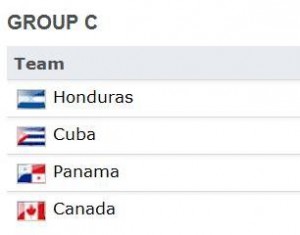 Group C is conformed of Honduras, Cuba, Panama, and Canada. Honduras is a clear favorite to win the group and advance to the 'Hexagonal', while Canada and Panama will be left fighting for the second place spot and a trip to the final round. Unfortunately for the Cuban soccer team, I think they will put up a fight, but at best will pick up a couple of points with draws here and there.
Honduras
Anything other than finishing in first place can be seen as a failure for the Honduran National Team. A team with a combination of older footballers with World Cup experience, and a younger generation of hungry players, Honduras should be able to win the group. My prediction is that they will end atop of Group C with 13 points
Cuba
The Cuban team is hampered by the lack of a professional league on the island, meaning that their talented players don't get exposure to higher levels of soccer. In the 2011 Gold Cup, Cuba lost all of its three matches, and received 16 goals in the process. I don't think they will end with zero points, but I just can't see them getting a win either. I predict they will end at the bottom of Group C with 2 points.
Panama
The Panamanian team reached the third round of the CONCACAF World Cup Qualifiers by winning all of their group matches in the second round. They will face a tough challenge against Canada for the control of the second place spot; ultimately, I believe that Panama will be the winner of the two and will move on to the final round of the qualifier. I predict they will end in the second spot behind Honduras, with 10 points in Group C.
Canada


The reason I finally have Canada ending up in third place of Group C, is that they had some disturbing results in the second round of the qualifiers. Canada tied at home against Puerto Rico, and also tied against St. Kitts and Nevis in an away match. This shows that even though the Canadian team has some quality players, they are inconsistent and give up valuable points. I predict that they will end up in third place with a total of 8 points in Group C.
If you have any comments or differing opinions, please let me know and I would be more than glad to hear what you have to say.
You can see the Group A analysis here and Group B Analysis here.